Fab Transformation Part 1: From the Beach to the Rocky Mountains
Unlike my prior fab transformation articles, this project will span a series of articles as I spend the next few months building my next quarter scale dollhouse. So, without further ado, let me formally introduce you this the lovely little kit I'm working, a modern beach house designed by John Jensen of

JManLaserCrafts

on Etsy.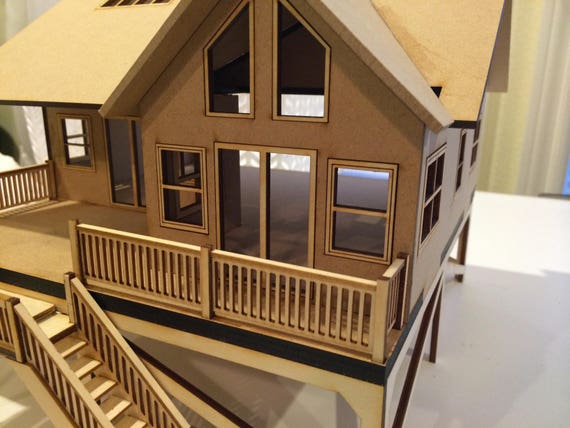 Key Changes
As I had briefly mentioned before, I first saw this not as a beach house but as a cabin much like the many of modern cabins here in Colorado. And as you can see from the photos below, they are very similar, both with big windows, bright rooms, locally sourced materials and lovely angles. The cabins are just darker, due to darker woods, stones, cement or stains an paint.
A real-life example of what the JManLaserCrafts house is intended to look like.
And it's mountain cousin. See how easily this kit will transform?
Kit Bashing Goals
What I will be walking you through these next few months is commonly

referred

to in the dollhouse hobby as a kit-bash (the act of intentionally

modifying

a purchased kit). Kit bashing is a great way to give a twist to a house people are familiar with and to test your building skills before you dive into making a house completely from scratch.
Aside from using darker paints and stains, the key modifications of my kit bash will be the addition of a ground level (namely a garage), allowing one of the sides to open on a hing for greater access to interior rooms, adding an extra room upstairs, carving the MDF to mimic

lap-siding

, and adding a "metal" roof.
My global goal is to keep this project as budget-friendly as possible using around-the-house supplies or cheaper modeling supplies.
The Interior Inspiration
Clean modern and mid-century boho are my favorites to mix, and these aesthetics will be the dominate forces. But like the Victorian rowhouse, this project will reflect it's roots and fuse rustic cabin charm and industrial chic as well. Bright walls, wood floors, rustic metal, sourced wood, bright kilim fabrics and pops of color will be found in this house.