January Mini Finds
It's hard to find 1:48 scale items, especially modern ones or items that will convert to modern, so I love sharing my best finds from the world. Thankfully, more people are creating 1:48 dollhouse items and a slight more are creating modern items, so this month has some nice finds!
Jane Harrop
Jane has an ever growing collection of 60s and 70s modern kits, but this kitchen takes the cake. Depending on how you paint and finish it,
this kitchen
could look retro as shown or it could look ultra contemporary. Also new from her is a smashing bedroom kit.
Shapeways Sensations
Who doesn't need a
jetted tub
? Or how about an ultra modern
soaking tub
?
Fab Kitchens
These
kits
by Mini Etchers don't look like they are 1:48 scale. When well assembled, these would look much larger than they are in a photo!
Art Deco Cuteness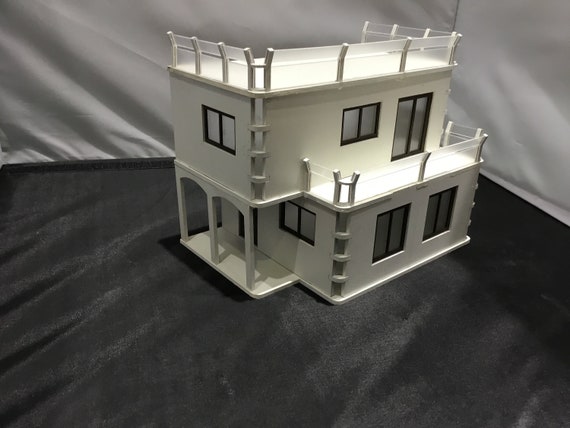 I'm so happy to finally see someone offer an
Art Deco house,
and it's created by the same designer who made my mountain cabin kit (originally a beach house before I got to it). Another major plus for this house is it's smaller size and budget-friendly price point. I imagine this house would be great with a wall inserted into the second floor for a bathroom and bedroom, with the bottom floor being open plan living and kitchen. Depending on the paint and finish, it might even look great as something more contemporary and less Art Deco.